There was some good news from Greece on Monday when we learned the economy has expanded again.
Between July and September it grew by a more than expected 0.5 percent from the previous three month period, according to the first estimate from the Greek government's statistics service.
It was up 1.5 percent from the same period last year – the strongest performance since early 2008.
This was the second quarter in a row of expansion, something which has not happened in Greece since 2006. In addition growth in the period from April to June was revised up to 0.3 percent.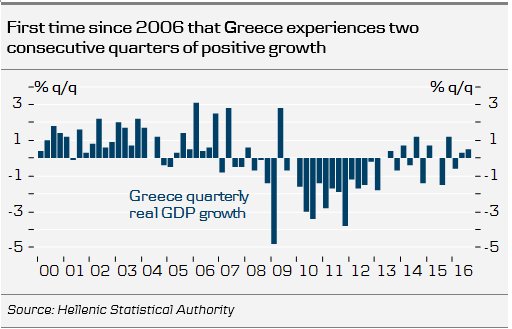 The numbers bode well for a stronger economic recovery next year following the country's long and deep recession.
Faced with a second bailout review entailing an unpopular liberalisation of labour laws, the Athens government is keen to show that the taxation and pension cuts that were part of the trade-off for last year's 86-billion-euro bailout deal will bear fruit and lead to economic recovery.
The growth came partly from EU spending on aid for refugees arriving in Greece fleeing war and persecution.
"The flash readings were above forecasts of around 0.2 percent, showing that the economy did not rely just on tourism but was helped by domestic demand and improved liquidity in the corporate sector amid clearance of arrears," National Bank economist Nikos Magginas said.
The Greek government is hoping that a visit to the country by Barack Obama, the outgoing US president, will also help the country with its quest for debt relief.
http://www.euronews.com/2016/11/14/greece-sees-surprise-economic-growth
 {rsform 3}